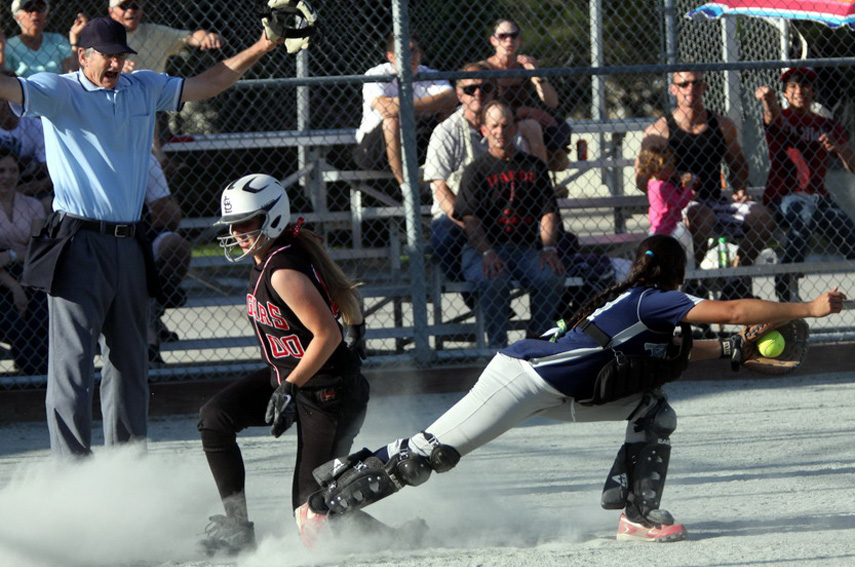 John Sheibley doesn't wait for the dust to settle. He knows a safe runner when he sees one.
| | |
| --- | --- |
| | To view/retrieve the PDF files on this page, you need Adobe Acrobat or its freely available reader. To install the EXE file, download it to a directory on your computer and then double-click on the EXE file. |
Sign-up forms you need to fill out: Contract | Profile You may fax forms to 431-6117
Updated information
Umpires, in an effort to help you more quickly find updates to the website, links will be posted to fresh or updated information at the top of the site each time it is updated. The current updated list is as follows:
The thing we can all say, Been There!! to is umpiring a blowout game. The kind that just drags along at a snail's pace and after twp hours still has two innings to go. And that's just to get to the fifth inning when the Mercy Rule may be invoked. Right now, the game is in the third inning and the score is 26-2. Ouch! But, fear not, help is on the way, in the form of an article appropriately entitled, Umpiring The Blowout Game. The article starts slowly but stay with it. About the seventh paragraph it really kicks into high gear and starts spewing a plethora of useful information. I hope you enjoy the read and that it helps you the next time you find yourself in (all together now) A BLOWOUT GAME!
The SCCSOA Executive Committee

for the 2016 season has yet to be voted into office. Until it is, the 2015 EC will hold court. It is comprised of: Pat Smith (chair), Alex Khoury (assistant chair), John Sheibley, Phil Adams, Linda Jennings and Rae Pena (alternate).

Remaining meetings are interspersed throughout the season at various locations and times.
March 13 --
At Oak Tree Villa, Scotts Valley, 4 o'clock. | Certification tests due
April 17 -- At Oak Tree Villa, Scotts Valley, 4
o'clock.
May 15 -- Pizza party, Woodstock Pizza on Front Street in Santa Cruz, 5 o'clock.
If a team fails to arrive by 20 minutes past the scheduled start time -- and doesn't call -- there shall be no game. If a team is late but arrives prior to 20 minutes past the scheduled start time, the two head coaches shall meet and decide on an appropriate amount of time for the players to stretch, get loose and warm up their arms and bodies; no infield warm-up. If this is a junior varsity game, the two-hour clock begins at the regularly scheduled start time.

The home team has the field for pregame warmups for 10 minutes, beginning 25 minutes prior to the scheduled gametime. The visiting team has the field for the next 10 minutes, followed by the lineup exchange at home plate 5 minutes to gametime.

If a game is tied after 8 innings, teams will use the International Tie-Breaker, beginning in the ninth inning. The mercy rule for a varsity game is 10 runs after 5 innings.

Junior varsity games have a two-hour time limit (no new inning after 2 hours), even if the game is tied. The mercy rule for a junior varsity game is 15 runs after 3 innings and 10 after 5.
The NFHS softball page has a wealth of information for you about rules changes and other news that will help make you a more informed umpire. Please visit this page. You might be required to provide your Arbiter username and password to gain access.
There are links to no fewer than 52 instructional videos on everything softball rules for you to view on the Softball Officials Education web site, in addition to seven Power Point Presentations on this web site. You will be required to provide your Arbiter username and password to gain access to this page.
If you are a member of the SCCSOA you need to take the 20-minute course Heads Up -- Concussion in Youth Sports. This is a required course as part of your training. If you have trouble viewing this CDC course -- and some officials have -- you may access the one at the NFHS web site: Concussion in Sports - What You Need To Know. It's not as good but it gets the job done. You will not be paid for any games until you have turned in your completion certificate that you may print at the conclusion of the course.
The CDC has an excellent web site on concussion in sports as well as a card that gives signs and symptoms of a concussion and an appropriate action plan.
As mandated by the CIF, all officials must show proof of general liability insurance before they may officiate. The least expensive insurance is $35 through the National Federation. Umpires who/worked for PSI this season already have genreal liability insurance and access to the Central Hub and to not have to pay any additional fees.
(For those of you who need assistance with setting up your Arbiter account, here is a step-by-step tutorial in Power Point.

To end the program, press the ESC key.)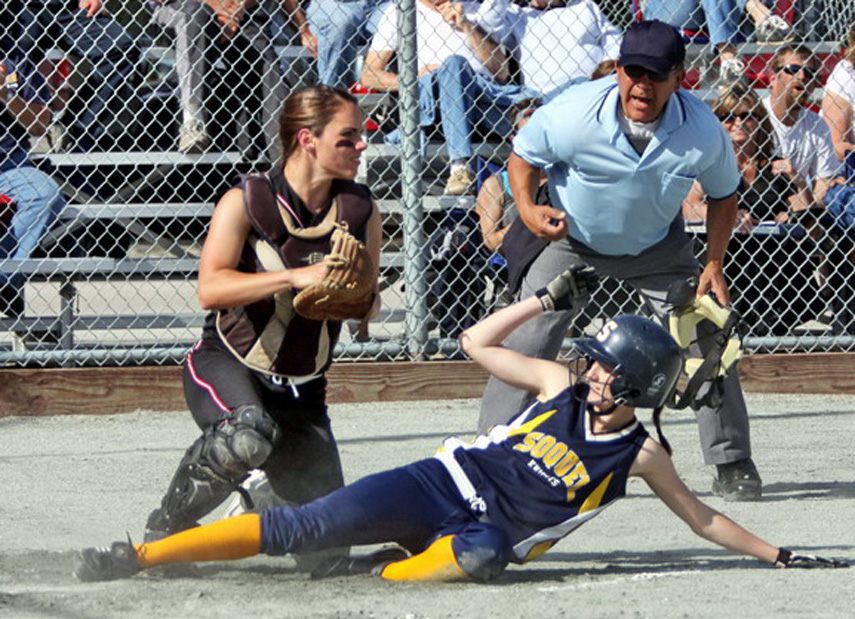 Frank Paz gets a good look at the play and then readies himself to ring up a runner for an out.
Teaching Interference and Obstruction
A Power Point Slideshow that teaches about Interference and Obstruction, and the difference between two. This presentation comes with detailed photographs that help explain the two rule infractions as well as case plays that serve as a quiz.
DP and the Flex -- and how to use them
This Power Point Slideshow that gives five sample exercises about the Designated Player and the FLEX, complete with lineup cards and step-by-step instructions on how to use them correctly. Confused? Remember, when a rule book speaks of the DP/FLEX, it means the position, never the player. Need more help? Read this, it might offer some clarity. It tdid for me.
20 rules interpretations
A Power Point Slideshow of 20 case-play situations and the ruling on each one. You may also print a copy of the presentation so that you may follow along. Also, there is a list of three printing error corrections at the top of the sheet.
Line-up card management
A step-by-step Power Point Slideshow shows you how to keep manage a line-up card throughout the game, complete with explanations on the DP, Flex and legal substituting. Make sure to take notes -- there will be a quiz during the presentation. (Seriously!)
The strike zone
A three-page Power Point Slideshow on how the strike zone should be called.
Keep the game moving
Though written for baseball, here are some tips you may use to cut several minutes off the playing time of games. Please keep in mind that not all of these tips are allowed in the softball rules.
Assignments
A link to Arbiter, where you may access your assignments.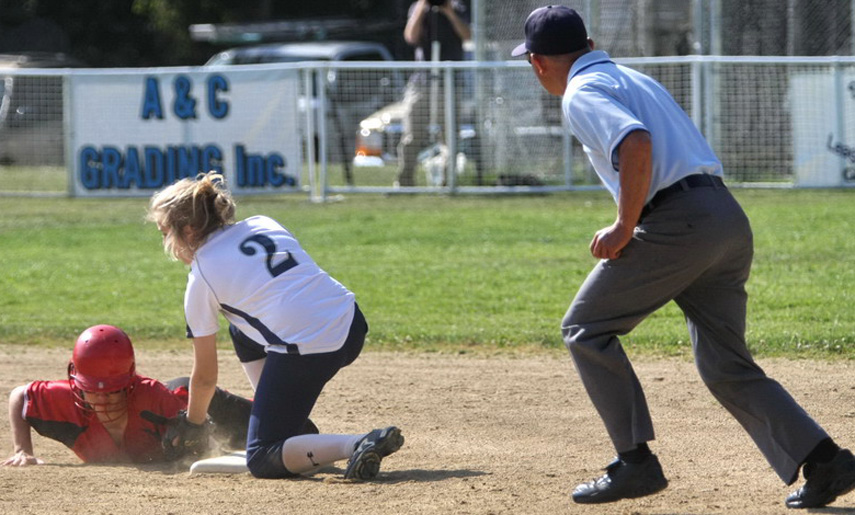 Carlos Escamilla hustles to get a good look from another angle before making his call.
GREAT SITE FOR SCCAL SOFTBALL STANDINGS, SCORES, STATS
Max Preps is the go-to site for all things SCCAL softball.
NEED EQUIPMENT?
Sport About (local, in Soquel)
Smitteez (good deal on jackets)
The Shoemart (plate shoes)
The Official's Choice (shirts for $12.50)
Cactus Umpires (links, links and more links)
Stripes Plus
Ump-Attire
Honig's
Get Official
ASA Gear
Google search engine for umpire gear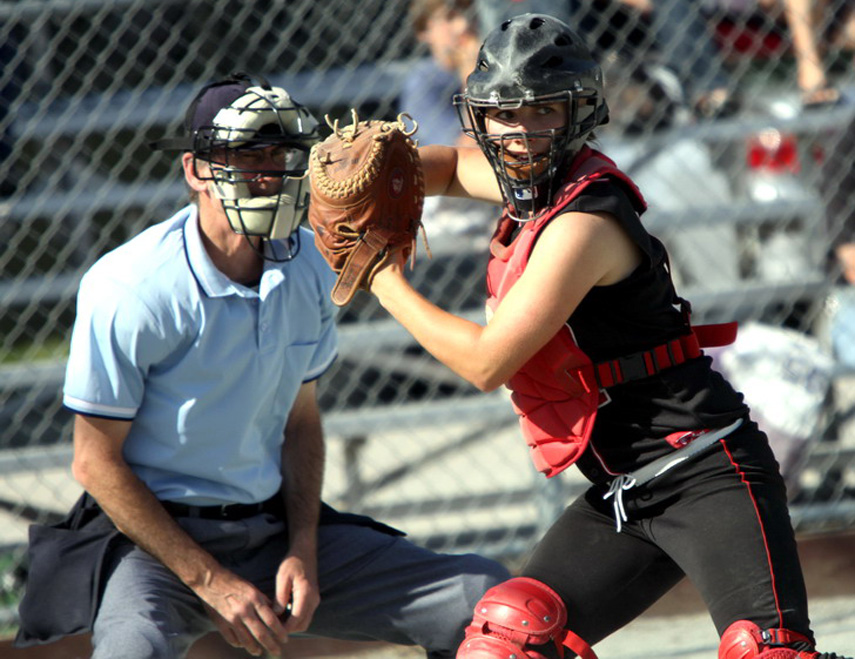 Once he's set behind the plate, John Sheibley holds his position until it's time to move.
Links to other useful sites
National Federation softball rules page
Central Coast Section
ASA Umpire Program
NorCal ASA
ASA